Taking your meal to-go?
Vanderbilt University Campus
Dining Launches Rentals Program
Taking your meal to-go? Vanderbilt University Campus Dining Launches Rentals Program

This nationally-recognized food service operator is making a difference on campus, inspiring thousands of students to reuse. 
At the beginning of the school year (September 2022), Vanderbilt University Campus Dining rolled out Fill it Forward Rentals to multiple residential dining halls,  offering a free reusable to-go container to every undergraduate. Students now track their container's rental and return using the Fill it Forward app. After only four months, over 24% of eligible students participated, helping to eliminate thousands of single-use containers from the landfill!
To rent a new container, students scan the QR code on their reusable using the Fill it Forward app. After eating a delicious and nutritious meal, they return the container to specific drop-off locations by scanning a sign.
"Launching the Fill it Forward program is a big step forward in our drive to offer sustainable dining at Vanderbilt," shared Maria Portelli, Senior Director for Campus Dining. "Based on surveys and feedback, our students have long advocated for environmentally friendly packaging. We know that Vanderbilt Student Government has expressed particular interest in a reusable to-go system."
Vanderbilt Campus Dining's approach to promoting Rentals has been very successful. It is now an integral part of the institution's strategy to reduce dependence on single-use containers. Here are three highlights of what they did right:
1) Gained alignment on sustainability objectives with university administration and student government. 
Vanderbilt University is committed to environmental stewardship and natural resource protection. Promoting reuse is essential to a campus-wide Zero Waste Master Plan to reach carbon neutrality by 2050 and zero waste by 2030. With sustainability as a top priority, new policies and partnerships have been implemented to help the entire campus go single-use container free. 
2) Equipped dining staff with training and strategies for effectively distributing containers.
The program was made available at three dining areas, where large information banners explain the program. To manage traffic flow, a staff member distributes the reusable containers before students enter the dining hall. Additional containers are available to rent from the cashier for $5, which can then be reused at any on-campus dining location and easily returned for sanitization.
3) Promoted program information in person and online for students, staff, and faculty.
To help students download the Fill it Forward app and understand the Rentals flow, an information booth was staffed for the first two weeks of the semester. Program details are also shared digitally, outlining steps to rent and return a container. Campus Dining worked closely with the student government to create a helpful video for social media and motivate students to participate.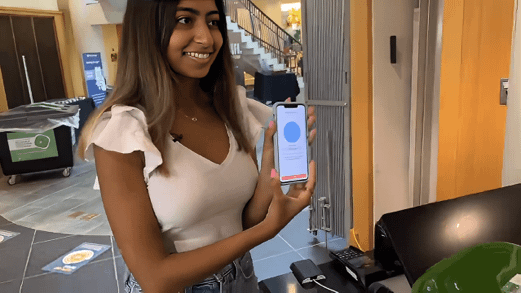 Amisha Mittal, Vanderbilt Student Government Student Body President
"We have seen great participation from our students, and made a huge impact on our sustainability efforts for the university. It's a great partnership that we look forward to building upon as we gravitate towards eliminating paper goods across all our dining halls."

Maria Portelli Senior Director for Campus Dining, Vanderbilt University
For details about Vanderbilt Campus Dining's sustainability initiatives, visit here.
For food service providers looking for information about Fill it Forward Rentals visit here.
Interested in partnering with Fill it Forward?
Interested in partnering with Fill it Forward?