Thompson Rivers University Student Reflects on Their Impact with Fill it Forward
Thompson Rivers University Student Reflects on Their Impact with Fill it Forward
Client Success Story: Thompson Rivers University
Thompson Rivers University has been using the Fill it Forward program since 2018. One of the ways, in which this school has excelled has been through high student engagement. We've decided to shine the spotlight on Heidi, a student, and top reuser.
Read more to learn how Heidi has discovered a sense of community by implementing reuse into their daily life. Heidi reveals helpful tips for developing sustainability practices, sharing how they developed additional sustainable habits. Heidi reminds us how "small choices can have a big impact when we are not alone in making them."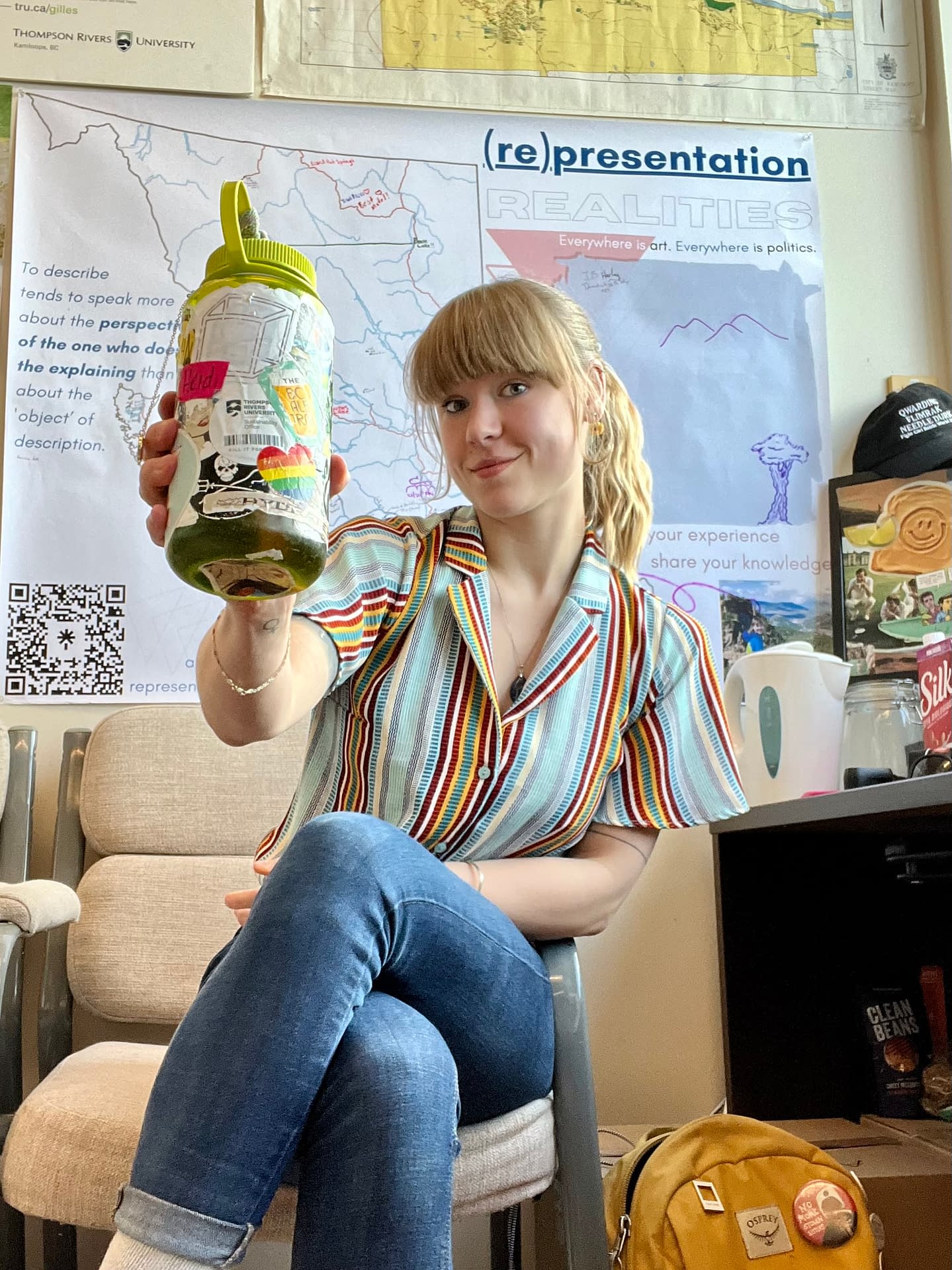 Heidi, student at Thompson Rivers University, Kamloops, BC
What made you decide to get involved with the Fill it Forward program?
The signs around the water fountains got me curious: I'd seen promotions like it before, and I really liked the idea. When the stickers were being handed out at a 'start of semester' event, I started!
What tips do you have for others who want to actively engage with the Fill it Forward program?
I keep my stickers on pretty much anything I use frequently (not just my main water bottle) because it's easy to forget to scan! The Sustainability Office is super generous with them, and I found out that they have different stickers for different drink containers – a plastic water bottle has a different Material Footprint than a coffee cup, after all!
If you're anything like me, habits are tricky, so linking the behavior to something else (brushing your teeth, before checking/playing on a favorite app, etc.) is a great way to get it done, even if it's not at that moment when you fill up; the point is to remind yourself to choose to reuse and then pay that moment of your attention forward! 
What inspires you about the program?
Changing behaviour is hard: we all have things in our lives that we want to do, but don't always follow through on. This is a cool initiative that links people in communities to each other and to a bigger cause. It can reduce a lot of that friction of change when we're acting together (especially in a good-natured competition!) and can see the impact that we're creating, on our own daily lives and in the lives of others!
How do you incorporate use of the program in your daily life?
I started out using the app as a hydration reminder (moving to semi-arid desert from a rainforest was a BIG change for my system) and, even though now it's more of something I do whenever I remember to, it's a reminder to pause. Lately, I've been linking the habit to check-in with where I'm at in my emotional landscape!
What do you like about the Fill it Forward app?
Like I said before, I think it's a great way to build up a community around intention: I appreciate that there isn't a penalty for 'losing a streak' and that you can see (in cute systems diagrams!) the impact you (and everyone else!) have made! 
Do you find that other sustainable practices have come to light after being involved with the Fill it Forward program?
I think this sort of knowledge about shifting behaviors is super helpful: it's totally applicable in building other habits, like remembering your shopping bags  – the trick is to leave them where you see/use them!
Projects like this affirm that those small, daily choices are important because there's billions of us making those choices – it's easier to remember (and more fun) when you're not alone!
"The 'Grab and Go' nature of the Fill it Forward program has made it easy to share with others, particularly our student Sustainability Ambassadors who have been instrumental in educating our campus community on the power of reuse. The Fill it Forward team is always there to help every step of the way. We have been provided with all of the elements required to run an effective communications and engagement campaign with measurable results, for both participants and the organization."

Anna Rogers Sustainability Programs and Support Coordinator, Sustainability Office Thompson Rivers University
Interested in partnering with Fill it Forward?
Thompson Rivers University
Interested in partnering with Fill it Forward?